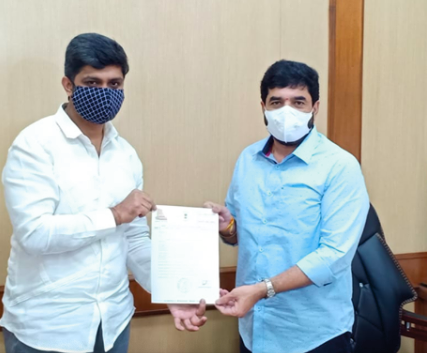 Had an extensive meeting with Hon. Mayor Murlidhar Mohol ji in regards to the infrastructural modifications on University Road to increase safety & ease flow of traffic. Handed over a formal request for changes as suggested by citizens, commuters and police personnel.
September 27, 2020
आज मा. महापौर मुरलीधर मोहोळ यांची भेट घेऊन विद्यापीठ रोडवरील पायाभूत सुविधा सुधारणेबाबत विस्तृत चर्चा केली.
नागरिकांच्या सुरक्षेसाठी आणि वाहतुकीचा सहज प्रवाह वाढविण्यासाठी, स्थानिक नागरिक, प्रवासी आणि पोलिसांनी सुचवल्यानुसार बदलांची औपचारिक विनंती सोपविली.
Had an extensive meeting with Hon. Mayor Murlidhar Mohol ji in regards to the infrastructural modifications on University Road to increase safety & ease flow of traffic. Handed over a formal request for changes as suggested by citizens, commuters and police personnel. I requested Mayor to to urgently directly authorities to
•Uniformly Level & Clear debris on the entire stretch.
•Increase Height of existing traffic signals.
•Repaint all existing zebra crossings for additional pedestrian safety
•Realign Diversion Barricades
Add your gallery here