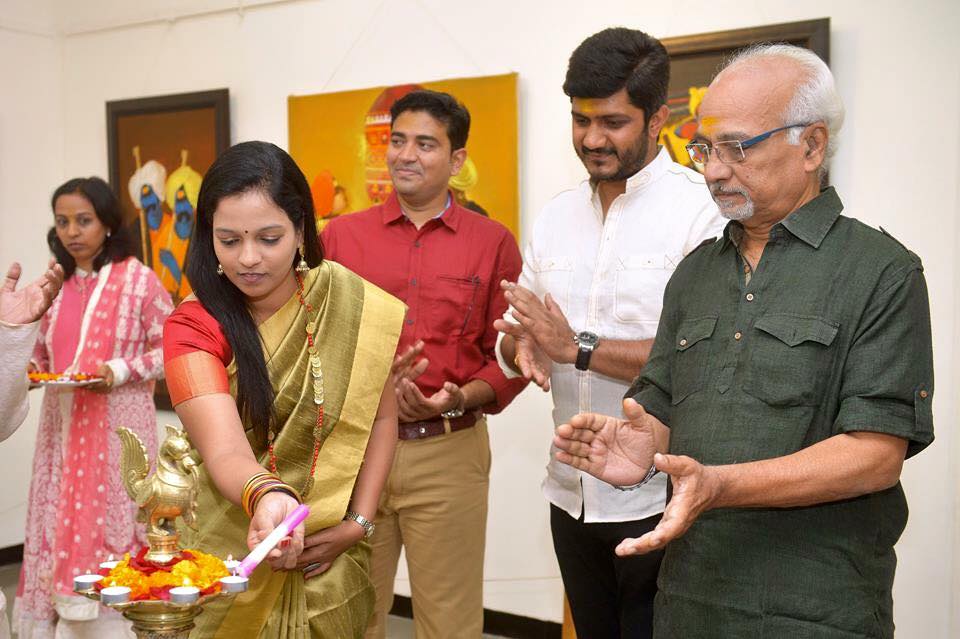 SUNBHARAN
October 9, 2015
Sumbaran … A story of a passionate painter Raosaheb Gurav and the spirit of his daughter who truly is a ideal example of Woman Empowerment , Chitra Mete … Had a opportunity to inaugurate and speak at 'sumbaran' an exhibition showcasing paintings of the majestic artist Shri Raosaheb Gurav at the Darpan art gallery in pune . It was a mesmerising display of the passion that Raosaheb Gurav has within about 'Dhangar' a local tribe of maharashtra . Years of hardwork went into creating this beautiful pieces of artwork . Each picture has a story to tell . I really felt as if I am communicating with these pictures . That's the power of art .  But more importantly what I appreciate is the effort of his daughter and my dear friend Chitra mete who organised the whole show . Almost of my age the amount of milestones she's achieved is unbelievable . A single mother of a 4 year old daughter the spirit & focus of Chitra is a marvel to witness . I've been associated with her since the last 5 years and at this young age what's she's achieved on her own being a woman is outstanding .
At a very young age she began with her organisation 'Chaitra creations and publicity ' which now has received many recognitions from the maharashtra government for its commitment towards social cause and result driven work . She has earned her BMW 5 series single handedly and that's also a matter of pride being a young independent woman. She has received the maharashtra udyogini award in 2013 by the Sakal group and also is the managing director of Handmade paper factory at junnar pune . The founder of sumbaran foundation she has now been selected as the vice president of the bombay art society .
A God fearing single woman , despite all the challenges and struggle ,is moving fast climbing the ladder of success ,each day on her own with focus , dedication and creativity which for me is a inspiring story in itself . This is what I call truly Woman Empowerment.
This is how society inspires you , all you got to go is imbibe this positivity from people like Chitra mete and many such . I'm so proud that she's a trustee of our Svayambhu foundation and we all together will make a tremendous difference to the society .. Giving is gaining , giving is pleasure , giving is peace 🙂 .
This ones to the story of a passionate painter and his spirited daughter who have set an example to the world with their great deeds .. The story of one Raosaheb Gurav and one Chitra mete …..
‪#‎artisinmyheart ‪#‎svayambuchronicles